Hey now, everybody!!

Potter County XIX was certainly a blast, this year. If not the best one yet, it was - by a mile - on par to be one of the weirdest Potters EVER. A super-hot weekend, weatherwise, combined with the first massive storm at the annual party in 19 years, but nothing was going to stop what is, was and seemingly always will be, the greatest gathering I've ever seen.

Wednesday. Yes, Wednesday. I'm starting to think that we are going to turn into the old ladies on cruise ships who get up at 5am to put their towel on their most preferred lawn chair by the pool, in order to reserve their prime location! We were about 20 campers strong by Wednesday! So nice to see the smiling faces that early and not have to worry about setting anything up, soundwise, just yet. Relaxing in Potter...
...it doesn't last that long.


Thursday morning starts off with the Annual Potter County Golf Outing! 8 of us hit the links and, in my particular foursome, there were more strokes than an Olympic swim meet. But we sure had some fun!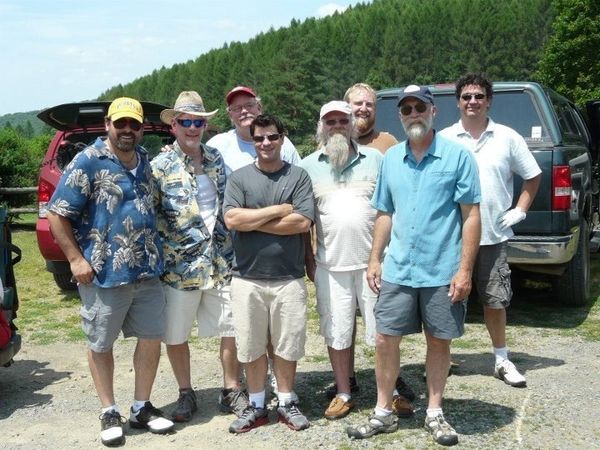 L to R: Pappy, Lee, Ron, JB, Jason, Jesse, Mick & Dan

Lots more arrivals Thursday, too!! Mike South arrived and, after a record-time unload/setup, we got in a little soundcheck on Thursday night - this time a bit 'jammier' than usual!! All the Double Dose band was there, as well as some members of Nine Eyes & theCAUSE! BEST. THURSDAY. EVER.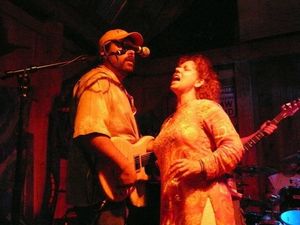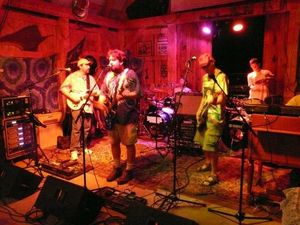 Friday, it was time to get to it. DAVID & PAPPY kicked off the weekend's 'official' music performances with a set on the deck. Sweltering heat, but it sure is nice to play like this for this crowd.
David & Pappy - Potter XIX On The Deck, Friday, July 6, 2012
Long Time Gone > Honky Cat, Just Like Tom Thumb's Blues, Catfish John, I'll Take A Melody, Kodachrome, Pancho & Lefty, Wake Up Little Susie, Love Please Come Home.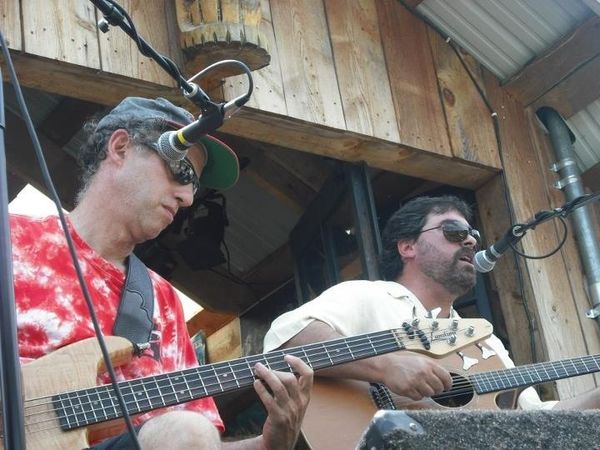 Moving into the barn, STACKABONES took over with a killer electric set featuring some amazing original songs, written by band leader, BUTCH ZITO. "CAPTAIN" PAT KELLY even sang lead! If you have not seen this band, do yourself a favor. A really wonderful sound and vibe! Click on a song to see the video!!
Stackabones - Potter County XIX, Friday, July 6, 2012
If I Only Had a Brain > Tie-Dye Blues, Cards on the Table, One or the Other, Paradise, Ain't Got No Chickens> Dixie Chicken > Ain't Got No Chickens, One More Cup of Cofee (The Valley Below), Golden Coconut, Burned on Love, Don't Know When to Quit, When the Fog Comes Rolling In, Tall Grass> Indian Song.
Butch Zito & Jimmie Brighton: guitars & vocals; Pat Kelly : drums; Chip Clofine: bass; Christian Salcedo: keys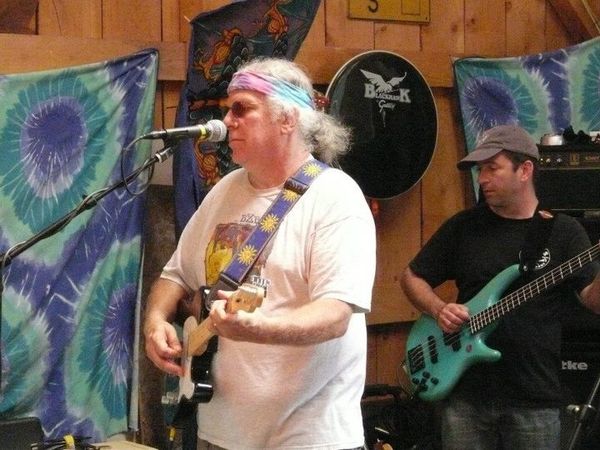 Every year since 2002, I've put together a band called PAPPY'S BLUES JUNCTION and has featured almost every player that's played a Potter County at one point, or another over the past 19 years. THIS year, I changed the name of the band a bit... PAPPY'S BEATLES JUNCTION hit the barn and played SIDE A of, "Sgt. Pepper's Lonely Hearts Club Band," into SIDE B of, "Abbey Road." A massive undertaking, to say the least, but my friends JILL PAONE SIMMONS, ELLEN SALCEDO, CHRISTIAN SALCEDO, PATTI SPADARO, MIKE SOUTH & JOHN "JB" BIGHAM, with help from MIKE "TOURPRO" TONY and DAVID TAUBERG, really stepped up and did a wonderful job!! Click on a song title to watch the YouTube video!
Pappy's Beatles Junction - Potter County XIX, Friday, July 6, 2012
Sgt. Pepper's Lonely Hearts Club Band > A Little Help From My Friends, Lucy In The Sky With Diamonds, Getting Better, Fixing A Hole, She's Leaving Home, Being For The Benefit Of Mr. Kite! / I Want You (She's So Heavy), Here Comes The Sun, Because, You Never Give Me Your Money > Sun King > Mean Mr. Mustard > Polythene Pam > She Came In Through The Bathroom Window, Golden Slumbers > Carry That Weight > The End.
Encore: Her Majesty > Sgt. Pepper's Lonely Hearts Club Band (reprise) > A Day In The Life.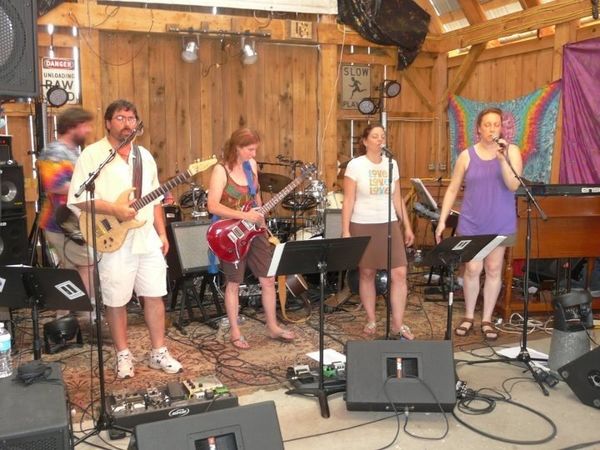 Next up was the PIG ROAST!! Since the early part of the day, Mick, Manuel, Max & Co. prepared and sizzled another pig that came out as perfect as ever. Of course, the rest of the attendees, not to be outdone, brought down some amazing accompaniments and we had ourselves one spectacular feast (the first of several!)!!!

After dinner, NINE EYES took to the barn with a great set of songs, featuring Christian Salcedo on lead guitar (Christian, once again, hit for the cycle playing every instrument including Zamphir's pan-flute). These guys are a kick-ass classic rock experience. Go see them!! If you're in Eastern PA or Delaware - or anywhere near there - show 'em some love!!
NINE EYES - Potter County XIX, Friday, July 6, 2012
Back in the U.S.S.R., The Boys are Back in Town, Black Magic Woman > Oye Como Va, Suffragette City, All Right Now, Hotel California, The Devil Went Down to Georgia, Do You Feel Like We Do, Walk Away, Lola, Hush, Fly Like An Eagle, Jessica > Call Me the Breeze, Soul Man, Monkey Man, Free Bird.

Christian Salcedo: guitar & vocals; Marshall Coates: bass & vocals; Mike Roslan: guitar; Dave Gershman & Pat Kelly on double drums, Ellen Salcedo: vocals, John Bigham & Mike Tony: keyboards, Pat Kelly: vocals.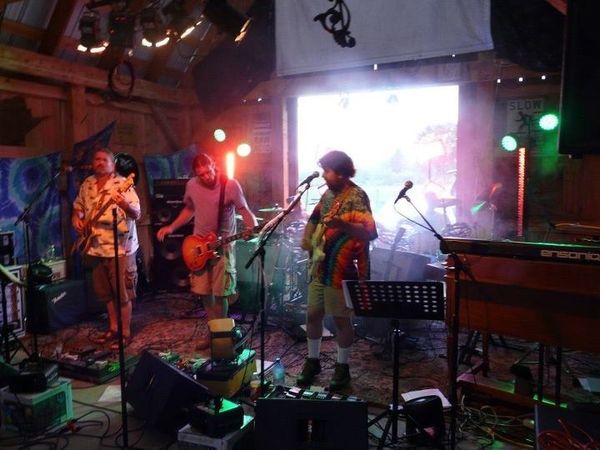 The band that started it all 19 years ago, DOUBLE DOSE, took to the stage for a big ACOUSTIC SET!! This year, on suggestion from our beloved bassist, JON HOERNIG, we decided to go 'old school' and fly by the seat of our pants...NO setlists! It was a really fun set! The exact setlist will come, once our friend DAN TOMKINSON starts putting up videos in their order, but we played (I'm pretty sure) a Bird Song that opened and closed the set, New Speedway Boogie, Me & My Uncle > El Paso, Superfly, Monkey & The Engineer, Mississippi 1/2-Step Uptown Toodeloo, Tangled Up In Blue, Midnight Moonlight, Truckin' and encored with a sweet Ripple. MIKE HOERNIG, JON HOERNIG, JOHN "JB" BIGHAM, "CAPTIAN" PAT KELLY, DAVE GERSHMAN, CHRISTIAN SALCEDO & myself were back in business!! Sitting in for some harmonies were Jill Simmons & our good friend, ANDREA PEARL!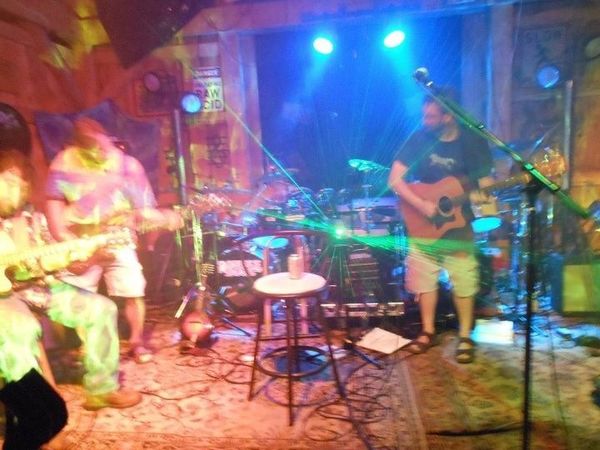 A late-night Jazz Lounge, hosted by John "JB" Bigham was to have taken place, but apparently (I was passed out by this point) it turned into a little impromptu jam session with a bunch of folks! It was getting crazy - and it was only Friday night.

It started off as another beautiful day...

THE MENTAL NOTES started off Saturday's music, but with threatening weather, CHRISTIAN, ELLEN and MARSHALL were cut short off the deck after 4 songs.
The Mental Notes - Potter County XIX on the deck, Saturday, July 7, 2012
Amie, Midnight Rider, Lay Down Sally, Can't Find My Way Home.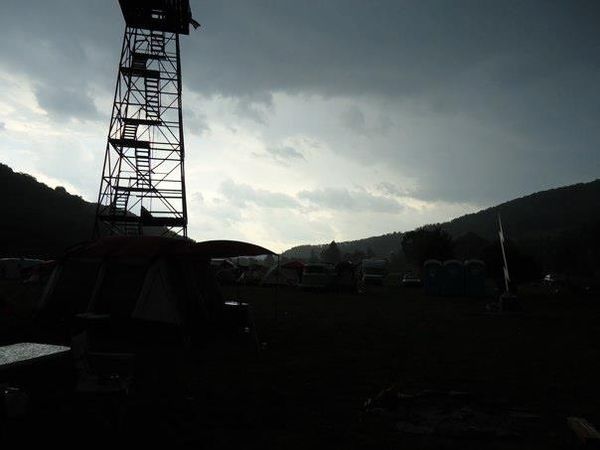 The STORM OF 2012. Moving a few things into the house for safe-keeping, I look out the window and it had just begun. Massive winds and driving rain. 3 tents (at least) flew out of control. E-Z Ups were broken like twigs. It's really amazing no one was hurt. I could hear Wavy Gravy from 1969 off in the distant corners of my brain, but as it was in Bethel Woods in '69, it didn't help. Once the rain stopped and people began the recovery process. The property was now out of power. It seemed like things may not turn back on again. But did that stop the amazing energy that comes from this extraordinary gathering? Of course not. People started making it happen. Helping their neighbors repair what was damaged, laughing and carrying on and the party was back in full swing. THE MENTAL NOTES took to a TRULY UNPLUGGED set on the patio, joined now by David and Andrea!
The Mental Notes - Potter County XIX on the patio, Saturday, July 7, 2012
Dead Flowers, You Don't Mess Around With Jim, Listen to the Music>Love the One You're With, Moondance, Mrs. Robinson, Dueling Banjos> Rocky Top.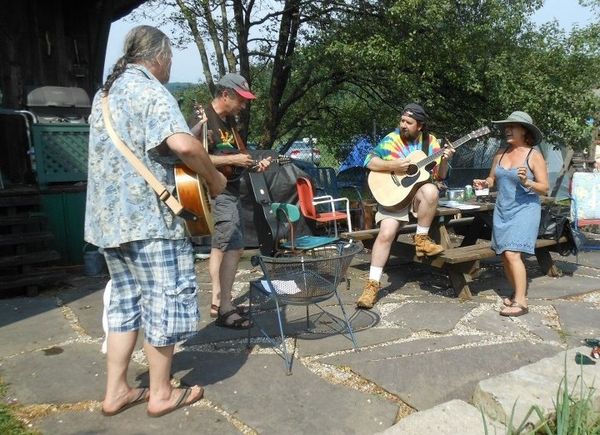 And we have power BACK!!

Scheduled next was THE JILL SIMMONS BAND! A rip-roaring set featuring JILL joined by PATTI, ANDREA, DAVID & MIKE SOUTH! Look for videos to surface soon!! Literally, a scorching hot set of tunes!!

Next up, and leading us into THE GREAT POT LUCK DINNER, was ACOUSTIC FOOT. MIKE HOERNIG played some songs with brother JON & JB and a few other guests, too, including our ol' buddy JIMMY MARENO! In the midst of his set, PATTI SPADARO came up and played a few of her original songs, too! A lovely way to ease into the evening's festivities....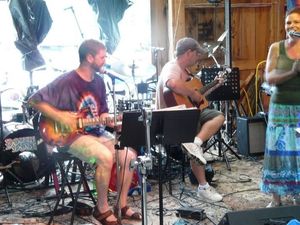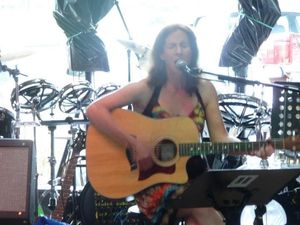 Saturday's POT LUCK never ceases to amaze me. I believe this thing gets bigger every year!! And the food? OH so good!! Hats off to you amazing chefs who bring their specialties to this meal. It is superb!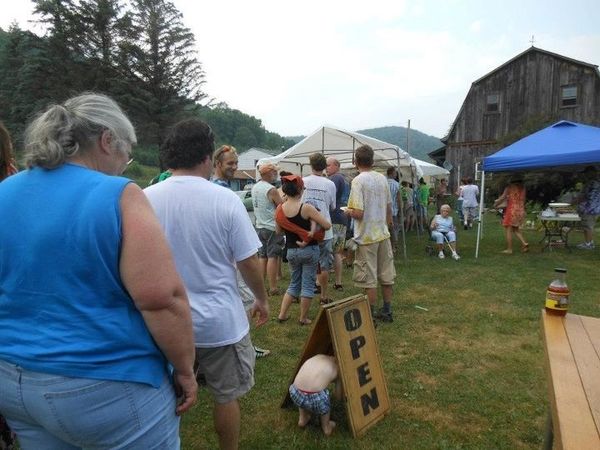 After dinner, it was time for theCAUSE. Once again, we were joined by our dear friends, ANDREA & PATTI! It is such a treat playing for this crowd, I can't say that enough. The energy that comes from you to us is what creates this magic.
theCAUSE - Potter County XIX, Saturday, July 7, 2012
Weather Report Suite: Prelude > Part 1 > (Part 2) Let It Grow, The Golden Road (To Unlimited Devotion)*, Row Jimmy, Romance Without Finance, Chinatown Shuffle, Highway 61 Revisited > China Doll > Never Alone** > Boogie On Reggae Woman > Cole's Law, Reuben & Cerise, Mr. Charlie, Fresh Air, Passenger, Help On The Way > Slipknot! > Comes A Time > Franklin's Tower.
Encore: Blow Away.
* from this point forward with Patti Spadaro on Guitar
** written for and about the occasion by Eric "Pappy" Weingrad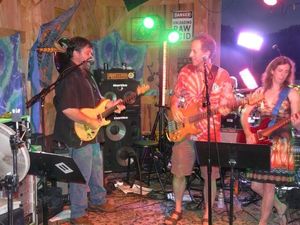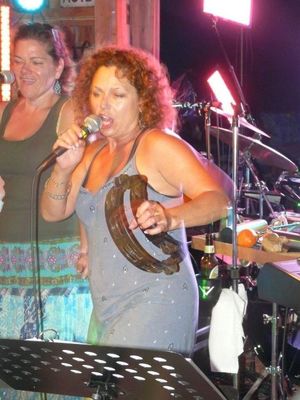 Time for the FIREWORKS SHOW!! Every year, Garcia & Co. light up the skies for us partygoers! They not only risk their lives (it's CRAZY out there in them thar fields), but they spend an awful lot of money on this stuff. Thank you very much from all of us for doing so. We love what you do!!!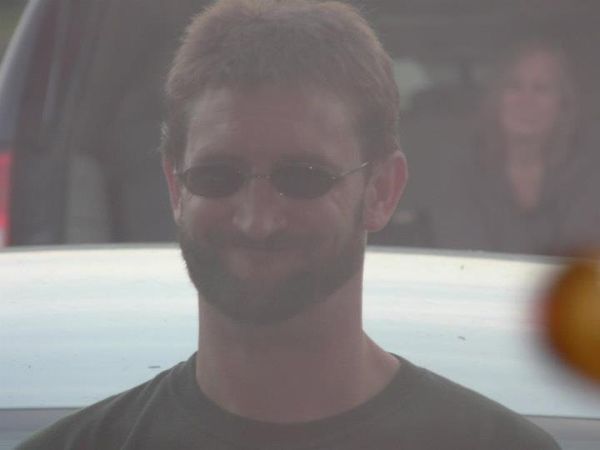 After the fireworks, DOUBLE DOSE was back in action, this time ELECTRIC! Again, we were winging it and therefore, a setlist is not readily available. BUT we did play China Cat Sunflower > I Know You Rider, Looks Like Rain, What's Found, Stormy Monday Blues, West LA Fadeaway, Loser, Katie Moon, The Maker+, Bertha, U.S. Blues, Music Never Stopped > Drums > Music Never Stopped, Terrapin Station, Throwing Stones and Samson & Delilah, just to name a few!!
+ first time played by d2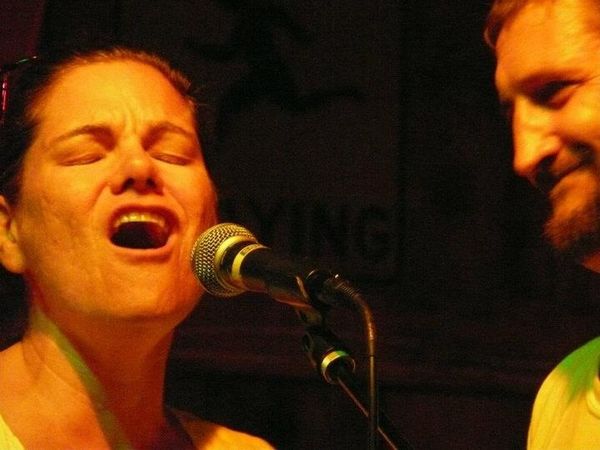 Another ALL-STAR JAM kept us up until dawn, featuring the players that were still standing...I think the music finally stopped around 6:30 am, this year.
There's nothing like putting that guitar down after a weekend like this. Every year, I stand for a few minutes in sheer amazment of how it all works and works so beautifully. Every single person who attends this event does something - no matter perceived how big or small - that makes it happen. It's just like a Swiss watch.

Sunday, after most of the people had gone, the remaining crew wandered around from site to site, still groggy from the days before, then feasted (yet again) on the leftovers!!!!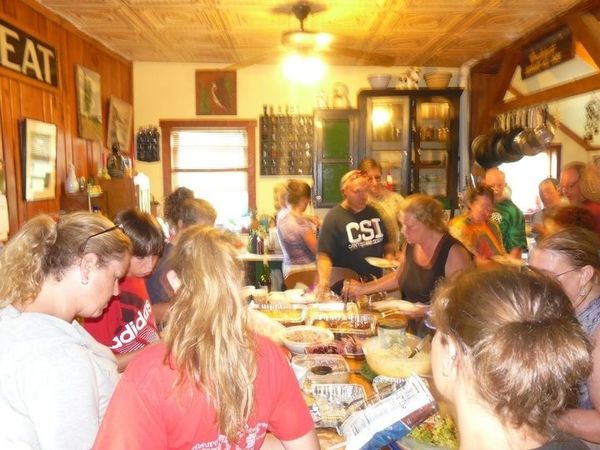 Thank you to everyone who attended, this year. You guys all work in perfect harmony out in the field, across the stream, and on the dance floor. It's amazing to watch. Thank you to all the musicians who lugged their stuff in and threw down with their hearts & souls. Thank you to our soundman. Thank you to our lightman (first-timer, CHRIS KRATZ!). Thank you to everyone who gets this property in order before we all come in and rip it to shreds - you're a special group!!! And thank you to Mike & Sheila for putting up with us for as long as you have. I'm beginning to think you're as crazy as we are.


See you at #20.